Opening Audacity for the First Time
Open Audacity (Start --> All Programs --> Audacity). The program icon looks like this:
| | |
| --- | --- |
| | Click the TV to watch the Introduction video. |
Audacity: Quick Overview
The first time you start Audacity the Project Window will open in its default size and location; the Device Toolbar is turned off, all other toolbars are visible and docked. Here is a view of the Project Window showing the menu bar, toolbars, timeline and an empty track panel - no audio has been added yet.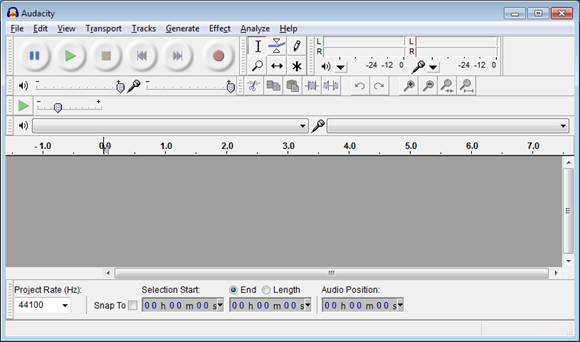 Timeline
The ruler above the tracks measures time. Depending on zooming the ruler may span minutes of audio or give a 'close up view' of a few seconds.

Audio Tracks
Anything that is added to your project will be placed inside a track container, underneath the timeline of the project. Empty new tracks can be added using the Tracks Menu. A track looks like this:

Project Files
Audacity creates PROJECT FILES. Project files collect up all the little files you create as you build your radio show and describe how you want them to fit together.
When you are done with your project, you will EXPORT your project to a completed audio file (usually MP3) that you can listen to with any media player (iTunes, Windows Media, etc).