Planets Project
Click here to find information on your planet:
Find good pictures of your planet here:

NASA Planets web site

Home Science: Backyard Astronomy Basics
This page was suggested by Elliot Phillips, a student who used this page for a project and wanted to share with you. A great page for planets and lots of other astronomy topics. Thanks, Elliot!

Constellations: A Guide to the Night Sky
This page was suggested by the students working with Selena McCoy at summer camp. Everything you need to know about every constellation: mythology, location, facts, major stars and more! Many thanks to Ms. McCoy's campers for their help!

44 Closest Stars and How They Compare to the Sun
This very informative Infographic was suggested by Hanna who found it as a part of her work on a Space Sciences Explorer Badge. We are grateful to her and all the members of her Girl Scout troop for their willingness to contribute to this page!

Click below to start your PowerPoint:

Planet PowerPoint Starter

Click below for the Planet Research Guide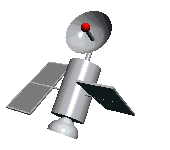 Humans Explore Space
When you think of transporting things to space the first thing you think of is a rocket, right? Maddie, a budding astronomer from Montana, found this wonderful page that explains what a Space Elevator is and how it will someday help us get into space much more efficiently than we do today. Many thanks to Maddie for helping us think bigger about space and the planets around us.
Astronomy Resources for Kids
Logan, a Boy Scout , found this site while earning his Astronomy badge. It not only has some nice resources to guide your research, but includes projects you can build as you try to better understand the science of astronomy. A great site if you are looking for science fair ideas. Thanks for sharing, Logan!