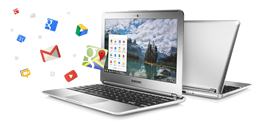 Chromebooks and Google Apps for Powerful Collaboration
Welcome!
Welcome to the world of Chromebooks! I'm quick to say that Chromebooks are pieces of plastic that open the doors to the very collaborative world of Google Apps for Education. We'll be exploring that world as well as learning as much about Chromebooks as possible in this very brief introductory workshop.
Workshop Information

Facilitator

Phil Biggs

Contact Info

Lake Stevens School District
phil.biggs3@gmail.com

For more Chromebook information:
As you are waiting to get started, please complete the survey below. We will be using this information in our workshop. Be sure to click the SUBMIT button after you complete each item.