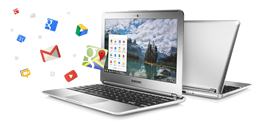 Chromebooks and Google Apps for Powerful Collaboration
Workshop Resources
The following are resources you'll want to use following the workshop. We have found these very useful as we've grown in our use of both Chromebooks and Google Apps for Education.
Lake Stevens School District Chromebook for the Teacher Site
The five trainers in our Chromebook for the Teacher program at Lake Stevens School District have compiled this Google Site to help our teachers as they leave their Chromebook training.
Google for Education Training Center
I consider this the definitive site for anything you want to know about Google Apps for Education. If you are interested in becoming a Google Certified Teacher, this is your starting point.
Stay up-to-date on all things Google at this site. Learn about new updates as they happen, find numerous tutorials... become a GOORU!