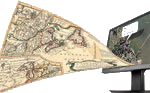 Google Geography: Locating Places on the Map
To begin using Google Maps, see how many of these places you can find in just 10 minutes!! You'll want to use the Search tool.
First, find your own home by searching for your address.

Find your birthplace, and if possible, the home you lived in.

Take a quick trip to Disneyworld. Be sure to zoom in as far as you can. Can you find your favorite ride?

Ever been to the Louvre in Paris? Now is your chance. If you haven't already, drag the yellow man from the navigation tools to a street and start driving around the Louvre.

Take a look at the Kremlin in Moscow, Russia. Is there a street view here?

Hop over to the pyramids (what search term works? Zoom out a bit. What conclusions would you draw about their location? Now find the Sphinx.

Find one more site of interest to you. List it here:

How do you think seeing maps in this way might interest students in your class?

How would maps like this help the visual learners in your classroom?