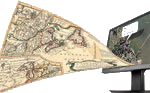 Google Geography: Google Maps to Google Earth and Back!
I always suggest creating the bulk of your map in Google Maps. The Rich Text Editor makes the process of creating nice looking Placemarks so easy, and it doesn't seem to want quite as much bandwidth as Google Earth which keeps the process running smoother. There is a point, however, that you can do some very cool things in Google Earth that you can't do in Maps. Here are just a few:
create flying tours of your maps that run automatically if you want. You can set the computer to zoom into spots, open placeholders automatically, wait a set amount of time, then fly off to the next spot!
set the exact elevation/altitude you want to zoom in when you approach a placemark.
create layers of data, much like a GIS database
Google Earth uses a special type of file called a Keyhole Markup File, or kml file. Keyhole is the company that originally created Google Earth. These files contain all the data Google Earth needs to draw a map. In the fall of 2008 Google added support for KML files to Google Maps, so it is easy to move data back and forth between the two programs. Because Google products are so widely used, it is possible to convert lots of geographic data into KML files. You can convert most GPS data, environmental data, and even some census data into KML files and import them into Google Earth and Google Maps (mind you, I'm not saying this is an easy process all the time, but it is possible).
In Google Maps, open your map that you want to view in Google Earth.
Click on the link KML or the Google Earth icon in the area just below the title (shown below).

Choose where you want to save the file and rename it if you want.
Now just find the file in the location you saved it and double click it. It will automatically open in Google Earth.
It is easy to find KML or KMZ files on the internet. It is an easy and sure way to share a map with another person. The steps below assume you have already found and downloaded a KMZ or KML file to your computer.
Click on My Places.
Create a new map.
Click the Import button just above the Title.

Now click the Choose button to select the file you want to import into your map.

Next find your KML or KMZ file and click Open.

All the placemarks and paths should be displayed in the map. If it is in a different area, you'll be taken right to that spot!